Gillian Kirkland Album Launch
This Saturday January 11th I will have the honour of opening for Gillian Kirkland's album release show at Mercury Lounge (56 Byward Market Sq.). $10 admission.
Posted by Elizabeth on January 7, 2014
The Silent I Know
The new album is out today, and I'm having those last-minute, "maybe this actually sucks," jitters. So instead of bragging about how excited I am, I will leave you with some links.
Bandcamp, for digital downloads: elizabethbruce.bandcamp.com Upcoming shows (FB events) if you want to buy it in person: Ottawa Toronto Montreal
Posted by Elizabeth on November 1, 2013
Dusty Owl
Last-minute announcement: I will be playing a set at the Dusty Owl reading series on Sunday with poet Allison Armstrong. Details here.
Posted by Elizabeth on October 16, 2013
The New Album
The new album is off at the mastering facility! The Silent I Know will be launched at Avant-Garde Bar in Ottawa on November1st. I'll also be in Toronto at the Tranzac on November 2nd and in Montreal at Burritoville on November 9th. So exciting...
Posted by Elizabeth on October 11, 2013
Dyke March
I'm proud to announce that I'll be playing a short set at this year's Dyke March at Minto Park on Saturday. If you're on Facebook, here is the event link: https://www.facebook.com/events/492288380857278/?fref=ts
Posted by Elizabeth on August 22, 2013
Playing Outdoors
My next show will be in the woods, by the beach, at Kaleidosope Gathering. I love singing outside. There is something almost risky about it. It's that little bit harder to imagine that no one can hear you, that you're singing by yourself in your own little room. As though if you sing to the sky, the whole world can hear you.
Posted by Elizabeth on June 25, 2013
Blanket Fort
I spent the last two mornings recording trumpet and voice overdubs in a home studio. We had the mic set up in a closet with blankets and cushions all around for baffling. It reminded me of being a kid, when I would hide out in blanket forts to escape my problems. Now I hide out in blanket forts to make music. And escape my problems.
Posted by Elizabeth on April 18, 2013
Reading About Yourself on the Internet
I realize this is just a part of modern life, not something unique to musicians, but I read about myself on the Avant-Garde Bar site and thought, "Huh, I don't remember writing that bio!" I probably did, mind you, it might have been several years ago. I feel the need to explain that Jean Leloup was probably high at the time. Anyway.
Posted by Elizabeth on April 12, 2013
More Recording
So, almost a year after recording the voice and piano parts, I'm finally doing overdubs! Listening to some rough mixes of my songs with cello accompaniment now. It sounds good. I'm a little worried about being trendy (or worse, having missed the trend) but whatever. Maybe I'll do my NEXT next album entirely on cimbalom. Haha. But seriously, I am also going into the studio next week to record some trumpet and backup vocals.
Posted by Elizabeth on April 7, 2013
May 8
I have a show coming up at Avant Garde Bar on May 8 with Shawn Donnelly and Gillian Kirkland. I have been corresponding with Gillian for a while now, and we finally met yesterday. What an unassuming, yet well-connected and talented person! It will be nice to reconnect with Shawn, too. We played a number of shows together in Montreal, but I haven't heard any of his new music.
Posted by Elizabeth on March 15, 2013
Discount Bin
Since the new album is in the works, I thought I'd offer a discount on the old one. Physical copies will be $12 by mail or $10 in person. BUT! You can now pay as little as $7 by buying a digital copy through Bandcamp. You're welcome. (The new album will probably go on Bandcamp, too.)
Posted by Elizabeth on February 3, 2013
Trumpet
When asked, I will say my main instruments are voice and piano. If pressed, I will add that I play trumpet and recorder - poorly. Yesterday I got my trumpet repaired and played through a few duets (trumpet-playing runs in the family) and remembered how much I love this instrument. Although I would say I'm better at piano, trumpet feels more natural to me. Almost as natural as using my voice.
Posted by Elizabeth on January 9, 2013
Outsider Art
I've been soliciting feedback on my upcoming album, and one of the most interesting responses so far has been from a reader/musician/friend (who can comment if he wants to be named): "I was left with the feeling that your record was a celebration of the Craft and femininity and power relations. I felt as if I were an outsider to your music and could not be welcomed in without the right shibboleths."
I always though of "outsider art" as being made by those who felt alienated... I didn't so much consider its power to alienate others. When I expressed surprise at this response, another friend of mine remarked, "Surely you knew that your music isn't exactly accessible."
Part of me thinks it is, and part of me thinks it isn't. On one hand, I hope people can relate, and on the other, I don't really care. But mostly I think it's incredibly pretentious to even be talking about this.
Posted by Elizabeth on January 5, 2013
Great Ideas from Other Blogs
I don't have any bright ideas today, so I thought I'd share some blog posts that have got me thinking about being a musician.
The first is a post by Heather Dale called "The Finishing Room." Long story short: stop dreaming, start doing. No one cares what's in your head; you have to make stuff if you want to get noticed. Boy did I ever recognize myself in this post. And I felt like I got a good talking to. Especially since it's been five years since my last album. Moving on...
This is a post by Dave Cool on promoting your show. It's all very sensible advice, but the part that really stuck in my mind was the idea that your biggest competition is staying home. I have to admit, when someone tries to get me out to a show, my first thought is, "I'd rather stay home." Not because I don't like the person, or because I don't like the music, but because I'm old and cranky like that. I assume that many of my fans are old and cranky too. Please don't be offended, dear readers, I like you anyway. You don't have to come to my shows if you don't want to. (It's possible I totally missed the point of Dave Cool's entry.)
Posted by Elizabeth on November 7, 2012
The Recording Process
I've been thinkg about how the process of recording my second album was different from recording the first. As We Sadden Each Other to Sleep was recorded at a professional studio in the Mile End district of Montreal. I guess I was going for the full hipster experience. This time around I'd like to say I'm more mature, and care less what people think of me... and while that's true, my choices had more to do with convenience. I went with a location and an engineer that I knew well and felt comfortable with. And you know, I think the results are going to be just as cool.
The other main difference is that this time, I did way more songs in way less time. I just can't afford (time-wise or money-wise) to spend long days in the studio. So I decided to record 21 songs in two evenings. This was a great solution for me. I know some folks like to avoid the time/money crunch by recording at home, but I'm not convinced that my house is a good acoustic environment, and I don't really enjoy interacting with technology. So probably I'm doomed.
Posted by Elizabeth on October 4, 2012
badge of honour
At CAN-CON on Saturday, I was given a nametag. I decided to take it off while performing, because it didn't match my outfit. Later that night, the Chair of the conference came up and handed me my badge. "I won't ask how this ended up in the men's washroom," he said.
There is, of course, a perfectly reasonable (and non-scandalous) explanation, but I think the story is better left to the imagination.
Posted by Elizabeth on September 24, 2012
CAN CON details
Here are a few more details about Saturday's show. It will be at 9 p.m. at the BEST WESTERN PLUS Ottawa/Kanata Hotel & Conference Centre at 1876 Robertson Road. If you want to come especially for the show, you can get an evening pass from 8:30 onwards for $15 ($10 for students). After my set there will be a performance by the Browncoats Burlesque troupe!
Posted by Elizabeth on September 20, 2012
Two Things I've Never Done Before
1) open for a burlesque show 2) perform at a science fiction convention
But on September 22, I will do both at the same time!!! I am pretty excited to go to a con again... it's been years. I'm not really fannish, but I like costumes and art and weirdos. Plus I remember going to this con (CAN-CON) back when I was a pre-teen.
If I learned anything at science fiction conventions, it was that it's ok to be weird. That lesson has helped me in my music, and will hopefully help with this blog!
Posted by Elizabeth on September 13, 2012
a call to arms
Like a lot of children, I was fascinated by wizards and witches, and they are the inspiration for the first song on the upcoming album. This "call to arms" invites peaceful warriors to pick up magic wands or flying broomsticks instead of weapons.
I was also thinking about the witch's cauldron, and the association of the uterus with "vessels" of all sorts. Although I would never want to be reduced to a womb on legs (don't get me started on some of the crazy anti-abortion legislation out there), I did find comfort in this quotation from Adrienne Rich: "...in primordial terms the vessel is anything but a 'passive' receptacle: It is transformative - active, powerful."
Brothers, take up your wands,
This is a call to arms,
Sisters, take up your brooms,
This is a call to arms,
I spin, I weave,
I cast this song,
That you might respond,
Brothers, take up your wands,
This is a call to arms,
Sisters, take up your brooms,
This is a call to arms,
After much hand-waving,
And incantation,
I feel good,
Am I but a vessel, nothing more?
Well, vessels sustain and transform,
Brothers, take up your wands,
This is a call to arms,
Sisters, take up your brooms,
This is a call to arms.
Posted by Elizabeth on September 1, 2012
rough mixes
I've been listening to the rough mixes from my recording session back in May, and am basically happy with how they sound. Now I'm collecting constructive feedback from friends, a first step in letting go and CD "release."
Speaking of letting go, you may have noticed that this entry is longer than most, and that I'm using the first person singular. I usually keep it short and impersonal in the attempt to sound professional.
But now I figure, hey, I have a website named after me, that's already pretty self-indulgent. Let's roll with it! Self-indulgent content is better than no content at all, especially in this era of Facebook status updates and tweets. (I have a Facebook Page, but no Twitter account.)
Anyway, I'll continue to write about upcoming shows, but I might also regale you with the stories behind the songs and other random thoughts.
Posted by Elizabeth on August 24, 2012
live recording session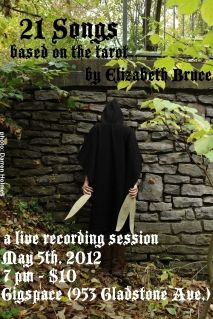 Posted by Elizabeth on April 28, 2012
shows and recording
Emerging from hibernation... I have a couple of shows in April. On the 20th I'll be in Ormstown at Café Namasthé with Gary Farrell, and on the 21st I'll be in Montreal at Café Mariposa with Eleanore Altman. I don't know much about Gary Farrell or Café Mariposa, but I know that Café Namasthé and Eleanore Altman are lovely.
I am also excited and nervous to be recording my second album (finally) in a live recording session at GigSpace Performance Studio on May 5th. Details to follow.
Posted by Elizabeth on March 21, 2012
Heather Dale & Elizabeth Bruce House Concert
I am excited to be teaming up with the inimitable Heather Dale for house show in (Ottawa's) Chinatown on September 8th! Space is limited, so please confirm your attendance by September 1st. We will be providing snacks, and both artists will have CDs for sale.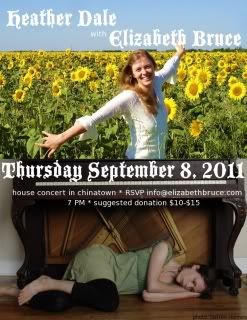 Posted by Elizabeth on August 16, 2011
Show Thursday!
Last-minute announcement! I'll be opening for Abigail Lapell on her CD release tour, this Thursday at Umi Café. Facebook invitation is here.
Posted by Elizabeth on April 26, 2011
New Website
So here it is, the new site, which appears very much like the old site, but is much easier to update. Will this result in more updates? We hope so. Stay tuned for more excitement in 2011!
Posted by Elizabeth on February 1, 2011
Save the Tranzac, Buy my CD!
I love the Tranzac, which is why I'm planning to give half the proceeds of every copy of "As We Sadden Each Other to Sleep" to Save the Tranzac. From now until the end of 2010, I will donate 6 dollars from every 12 dollar CD to the Tranzac fundraising campaign. Why?
The Tranzac is one of the most welcoming venues I've ever played. It feels like someone's basement rec room. It's hip without trying too hard. They have a real piano, friendly bar staff and attentive audiences. The Tranzac is one of the few non-profit performance spaces in Toronto.
I've only performed there twice, but I hope to be back many more times. I'm sure there are tonnes of people out there who love the Tranzac so much more than me. But love is not enough. Buy my CD here or on MySpace. If you already have my album or want to give MORE than $6, check out Tranzac's Pledgie site and join their Facebook Group.
Posted by Elizabeth on October 1, 2010
May 2010:
This month I'll be joining Toronto singer-songwriter Abigail Lapell on the Umi Café stage here in Ottawa.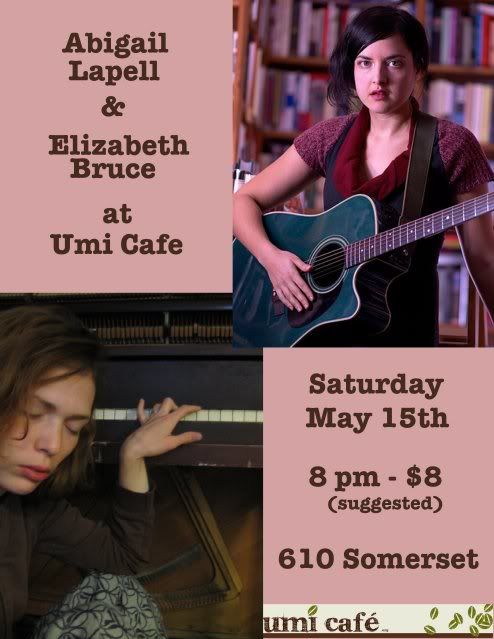 Posted by Elizabeth on May 1, 2010
March 2010:

Two shows to mention for April - One in Montreal on April 10th at the Yellow Door, and one in Ottawa on April 17th at the Rainbow.
The Yellow Door show starts at 8 and I'll be sharing the stage with Carrie Katz. $8, $6 for students.
The Rainbow show is part of the Acoustic Afternoon Concert Series with Maxim Cossette. Show starts at 4 p.m., freewill contribution.
Posted by Elizabeth on April 1, 2010
February 2010:

This month was memorable for the fantastic show at Café Namasthé in Ormstown QC. I was simply overwhelmed by the attentiveness and generosity of the packed house. This little cafe offers live music every Friday night. Worth checking out if you're ever in town..
Posted by Elizabeth on February 1, 2010
January 2010:
Elizabeth is performing at this month's Monthly Mess, put on by the folks at Indyish. As usual there will be an eclectic group of performers, including Tasha Cyr and Erik Virtanen (of the Darling DeMaes) and Satellite Maps. January 15th at Mainline Theatre, 3 997 St. Laurent in Montreal.

Check out the Midnight Poutine podcast mention!
Posted by Elizabeth on January 1, 2010
December 2009:

Elizabeth will be opening for Mary Stewart on her 'Snowflakes & Cupcakes' tour on December 7th at Umi Café (610 Somerset West). She will be joined by Jason Sonier on cello, bass, percussion and flute.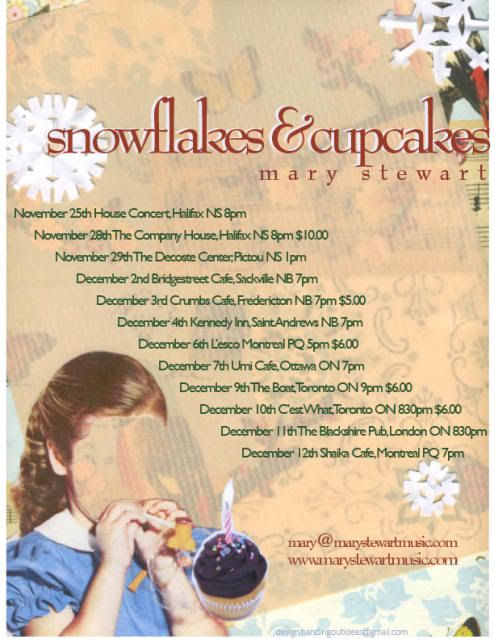 Posted by Elizabeth on December 1, 2009
October 2009:
Next show will be an hour outside Ottawa/Montreal in Vankleek Hill (did you know it's the gingerbread capital of Ontario?) on November 7th as part of Erica Taylor's vernissage. Arbor Gallery is at 36 Home St., open noon-5, music at 1 and 3 p.m. If you want to make a day of it, check out the Victorian home tour or Beau's brewery.
Posted by Elizabeth on October 1, 2009
September 2009:
Where did summer go? There was that charming house show in July with Devin Johnstone and Capital Grass that evolved into an impromptu yoga party, but the rest is a blur.
The plan for the future involves a very long album (21 songs) that will be debuted on YouTube. These songs will be darker and stranger than ever before. If the reception on YouTube is good (and one thing you can count on in YouTube Land is honest comments), they will be professionally recorded at a later date.
And if you haven't already joined, you are cordially invited to sign up for the Elizabeth Bruce mailing list on Facebook. 105 members and counting!
Posted by Elizabeth on September 1, 2009
February 2009:
It's been too long, my friends! Yes, there will be a show soon. Elizabeth (and Jason Sonier on cello) will join Luna Allison at Raw Sugar Cafe on Sunday, March 1.
Posted by Elizabeth on February 1, 2009
November 2008:
Winter's coming and all we want to do is sleep. These shows won't keep you up too late.
November 22 matinée at The Spill in Peterborough with Sarah McInnis and Slowly, Slowly.
November 23 early show at Tranzac in Toronto with Robert Hedge.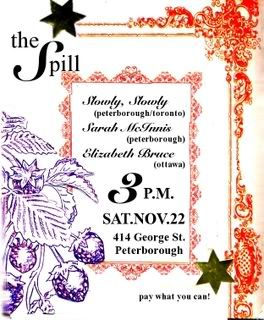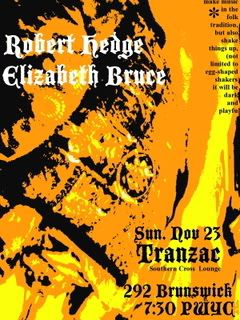 Posted by Elizabeth on November 1, 2008
September 2008:
Look out for Elizabeth Bruce , Glenn Nuotio and Wet Nose Hero at Umi Cafe on September 19th.
Posted by Elizabeth on September 1, 2008
August 2008:
This month, Indyish celebrates 2 years of existence. August 9th is their big birthday bash at Sala Rossa.





And on August 18th, Elizabeth joins Glenn Nuotio and friends at the Manx pub to raise funds for Capital Pride.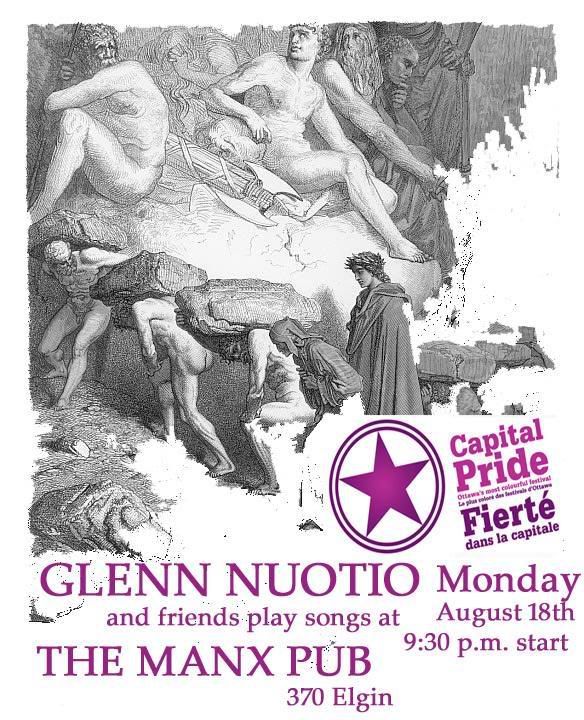 Posted by Elizabeth on August 1, 2008
July 2008:
Elizabeth has 2 shows coming up at Avant Garde Bar this month, with her new band! The first is July 12th with Parkdale Revolutionary Orchestra, an experimental sextet from Toronto.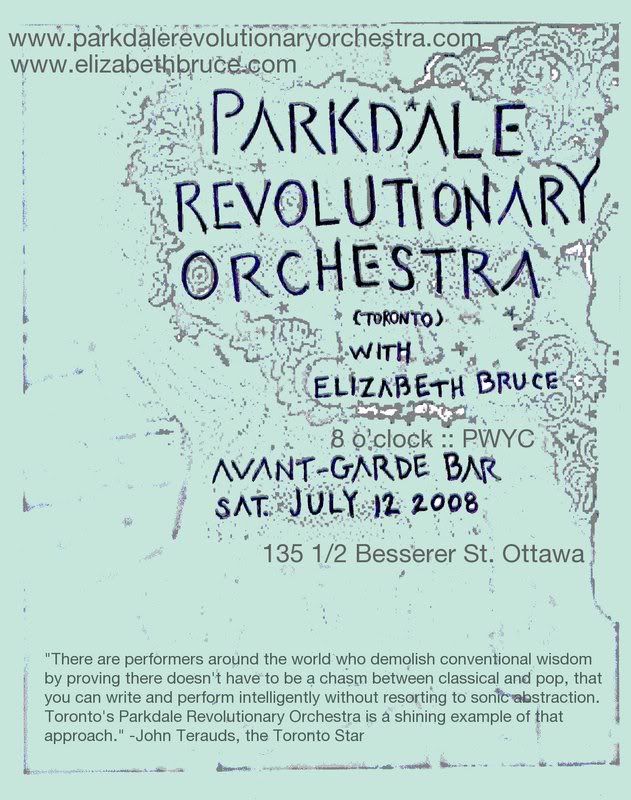 One week later, on July 19th there's a show with The John Punch Band and Capital Grass and the No Men (who gave an amazing high-energy show last time they were in town).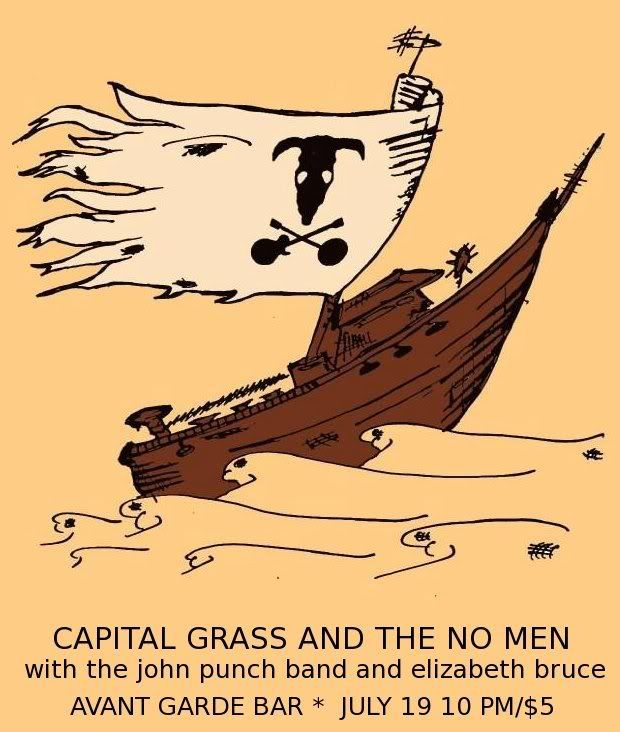 Posted by Elizabeth on July 1, 2008
April 2008:
Thanks so much to all the people who came to the eastern tour shows, and to all the bands and billeters who helped out. It was real.
Posted by Elizabeth on April 1, 2008
February 2008: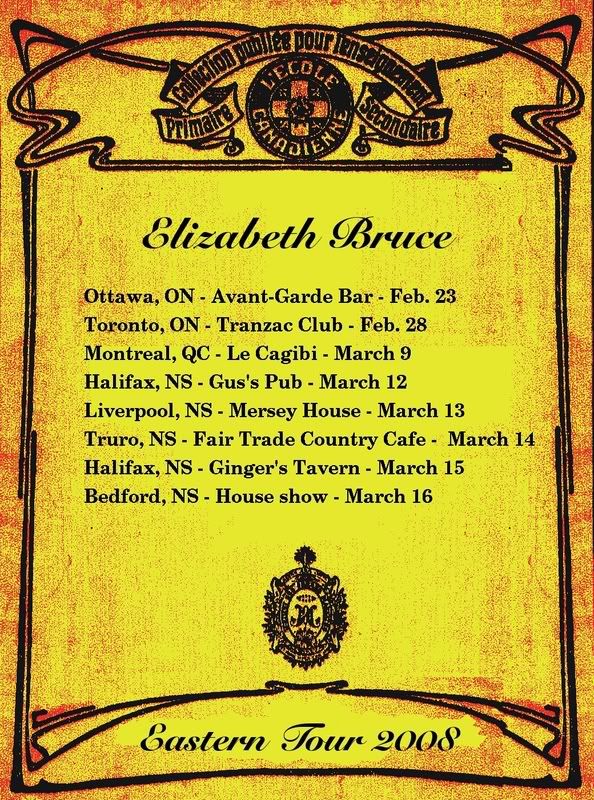 The big news is that Elizabeth will embark on her first maritime tour in March. There are a couple of February dates to mention, though. On Saturday, February 23, she will be playing at Avant-Garde Bar in Ottawa, with Capital Grass and the No Men and Kites Overhead.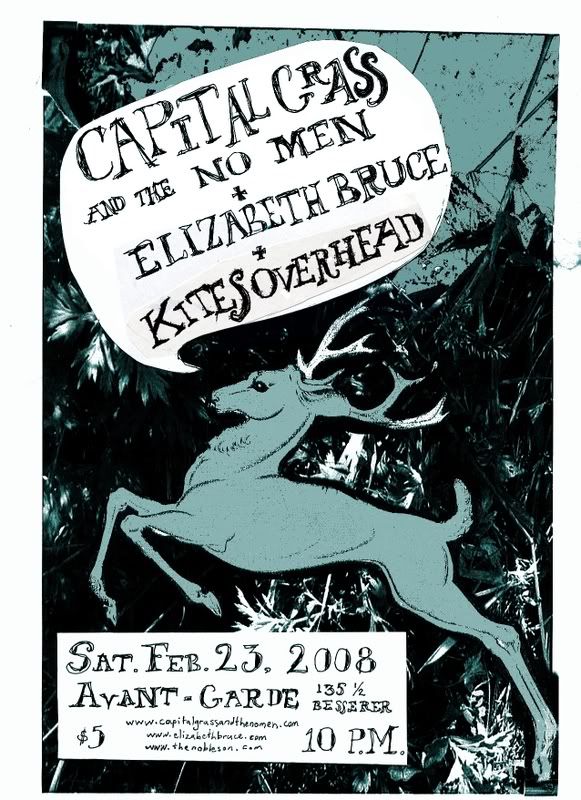 Then on Thursday February 28, she'll be at the Tranzac in Toronto with The Good Ideas.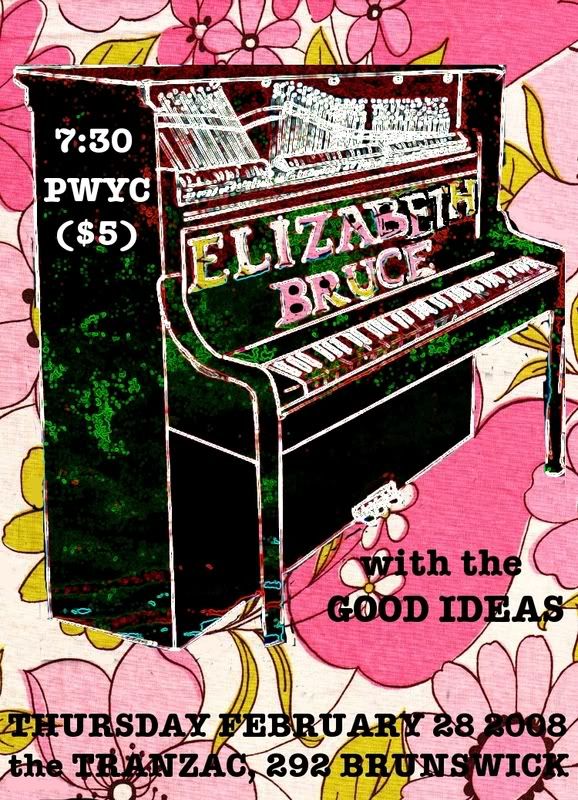 Posted by Elizabeth on February 1, 2008
December 2007:
Elizabeth will be the featured artist on CJLO's The Franchise on Saturday, December 15th.
She will also be featured on CKCU's Ottawa Live Music on Thursday, January 3rd, 2008 at 11 pm.
Posted by Elizabeth on December 1, 2007
November 2007:
Thanks to all who attended the 4th Anniversary of Catcall on November 13th at Divan Orange. Congratulations to Catcall Founder Abigail Lapell!

October 2007:
Elizabeth celebrated her birthday with a gig at Irene's Pub, along with local piano man Glenn Nuotio (who did an amazing rendition of 'Happy Birthday') and touring Vancouver rockers Better Friends than Lovers. A review of the show can be found here
Posted by Elizabeth on November 1, 2007
September 2007:
Elizabeth's recent UnPop Montreal gig landed her a half-page photo in 24 Heures, which in turn resulted in her face being trampled by thousands of Montreal commuters.
Posted by Elizabeth on September 1, 2007
July 2007:
Elizabeth has moved back to the National Capital Region after an educational 7 years in Montreal. She is still performing in both cities.
Posted by Elizabeth on July 1, 2007
June 2007:
Elizabeth's début album, entitled As We Sadden Each Other to Sleep , was released on June 4th at Barfly. Tasha Cyr and JP Houston did a wonderful job opening. Some photos of the show can be found here.
Posted by Elizabeth on June 1, 2007